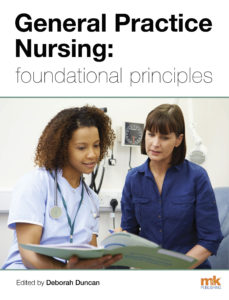 The General Practice Nurse's role has changed enormously over the past few decades. This helpful book gives an up-to-date overview of the GPN's responsibilities, providing relevant information about clinical skills and knowledge, health promotion and screening, and the management and assessment of long-term conditions most commonly presented in primary care.
The book is edited by Deborah Duncan, a nurse educator and GPN, and includes contributions from other nurses who are experienced in their fields. It contains a wealth of references and resources, enabling the reader to gain more detailed knowledge of each topic. There are also reader's activities (designed to reinforce the content) scattered throughout the text.
Aimed at nurses in England, Scotland, Wales and Northern Ireland, who want to work in primary care, this will be a vital resource for those who are new to General Practice Nursing as well as those returning to it after a long gap.
General Practice Nursing:
foundational principles
ISBN: 9781910451212
May 2019 • M&K Publishing • 220pp • £30.00
Edited by:
Deborah Duncan BSC PGCAP PGDIP MSC FHEA AKC ARNS
RGN RM NT QN
Lecturer (Education)
School of Nursing and Midwifery
Queens University, Belfast
Contents include:
The role of the GPN: Political, professional and economic drivers
Consultation skills
Public health and an introduction to health screening
Cervical cytology
Women's health
Men's health
Immunisation
Travel health
Ear care
Wound care
General principles of long-term conditions
Diabetes
Respiratory conditions
Chronic kidney disease
Coronary heart disease
Cancer as a long-term condition
Dementia
Mental illness as a long-term condition
eBook version also available: eISBN: 9781910451717
M&K PUBLISHING an imprint of M&K Update Ltd • Keswick • CA12 5AS
www.mkupdate.co.uk
Tel: 01768 773030 • Fax: 01768 781099
publishing@mkupdate.co.uk